Bio
"Sandra Locklear sings and plays with a shimmering sensuality and the voice of experience." 

-Maggie Larrick, Capitol Hill Times
A Fresh Sound Emerges!
Seattle-based performing artist SANDRA LOCKLEAR is both pianist and singer with a natural gift for connecting with  her audience.  Sandra sets a fresh standard full of soul by pairing an alto voice with jazz piano stylings refined over  many years of playing in the Pacific Northwest, Alaska, Canada and Europe.  She effortlessly crosses over from jazz to bossa nova, from show tunes to her own compositions, with a technical proficiency honed since she took her first piano lesson at age 7.  Sandra is proud of her Ukrainian heritage and hails from Kenora, Ontario.
Early Training

Sandra began jazz and classical keyboard training  with professional jazz musician Margo Beecher (pictured at right). Margo played Hammond B-3 organ in Ricky Ricardo's Latin band and was in demand in LA's Local 47 along with friends Nat King Cole, Louie Prima and Keely Smith. The music of Ellington, Jobim and J.S. Bach was standard fare for Sandra's earliest music lessons under her mentor's careful tutelage. 
By age 12 Sandra was performing at weddings, fashion shows and at church.  During high school, her blues rendition of "Night Train" won Yamaha's Young Artists NW Regional Organ Competition and she went on to compete in Carmel, California.  A year studying in San Francisco with jazz organist Jim Rowsey inspired Sandra to enroll as a music major back at Western Washington University.   Unable to resist the chance to tour Canada on the organ kicking bass with a quartet, she took a break from school.  "And that's when I really started singing. The band leader stuck a microphone in front of my mouth and ordered me to sing!"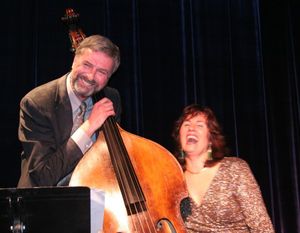 University Music Studies
As a solo artist Sandra continued performing regionally and internationally.   Between stints on the road she studied jazz piano and theory at Cornish College of the Arts, and composition and music education at the University of Washington. Between juggling family and her career Sandra eventually earned two music degrees Phi Beta Kappa and Magna Cum Laude.
At Cornish College of the Arts Sandra studied with jazz notables NPR jazz producer/radio host Jim Wilke, bassist Gary Peacock, horn players Julian Priester and Jim Knapp, pianists Art Lande, Peggy Stern and pianist-singer Joni Metcalf, who all influenced her distinctive sound and understanding of the art of jazz.  At the University of Washington, clarinetist William O. Smith (Dave Brubeck band) guided Sandra's composition efforts, while jazz pianist Marc Seales honed her playing skills . Sandra studied with piano virtuoso Jerome Gray and trained with vocal coaches George Peckham (Ann and Nancy Wilson of "Heart" and Judy Collins) and opera master Augusta Palialunga.
Recordings

Eventually Sandra was compelled to break out and do her own thing.  With her own sure vision she formed a record label.  In 2000 Sandra recorded an album of original compositions with an all-star band and special guests. Energetic and sensual, Sandra's finely wrought debut CD GODDESS RISING melds original smooth jazz and easy-listening rock, Latin grooves and poignant solo ballads.
GODDESS RISING ©2000
---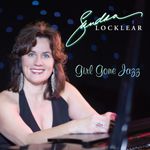 Executive producer Douglas Hughes met Sandra during a show in a dinner club and paved the way for her next project.  On GIRL GONE JAZZ Sandra and her quartet showcase her jazz roots and three more of Sandra's original songs.  From playful to relaxing, listeners are treated to clean arrangements and new perspective on beloved standards.
GIRL GONE JAZZ ©2007
---
Mother, Traveler, Teacher
The unconventional path musician Sandra Locklear took early on as a single parent meant taking her baby on the road and nursing him between sets.  With her growing boy she toured Scandinavia and went to West Africa to experience the roots of jazz.  Their cultural tour group narrowly missed the civil war depicted in the film "Blood Diamonds."  For years afterward Sandra provided funding to the Sierre Leone National Dance Troupe so its children could attend school. This African trip provided the basis for Sandra's introducing a World Drumming program to the Highline School District that is still being taught today.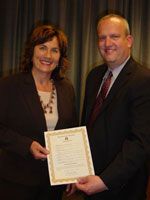 While Sandra raised her children on the piano and continued to perform and compose, "Ms. Locklear" contributed over two decades of public service as a certified music specialist and arts advocate in south Seattle's Highline School District.  She taught general music, choir, world drumming and guitar to diverse immigrant and refugee student populations.  Before her resignation Sandra spearheaded a successful campaign to reinstate her district's Fine Arts Director position and worked to ensure that middle school arts gaps were closed in compliance with state law.  Sandra's passionate belief is that the arts deserve a place in the public school curriculum at every level.  Published by Johns Hopkins School of Education, Sandra's 2002 research article Research-Based Justification for Highline School District Elementary and Secondary School Music Programs stresses the critical reasons for including music in public education.
Inspirations on Compositions
Sandra spent her formative years listening to the British rock invasion and protest music of the '60's while learning jazz and Latin standards from her music mentor.   Her Scottish grandmother mastered the Royal Conservatory piano course while her other "Baba" sang Ukrainian lullabies and church chants in minor keys.   Natural and indigenous sounds of the planet soothe Sandra's soul and shape her ears.  Born of experience, Sandra's original music on her albums is a stylistic mix of tender and forthright observations on life.  "Our world is a rich tapestry of sound vibrations and healing frequencies," says Sandra.  "I'm blessed to be able to play or sing what I feel in the moment.  Everything listens."